Development
We are currently working on a product we will bring to market. Sign up for development news.
Sign Up
During the winter of 2012/2013, we lost a number of hives due to the winter weather conditions. We believe that the poor autumn of 2012 and the lack of a nectar flow towards the end of the season meant that the colonies were not as strong as we would have liked, as we entered the winter period. Meadow Bees decided to start a project, to monitor the environment within and around one of our hives and to try and understand the correlation between hive health and environmental factors.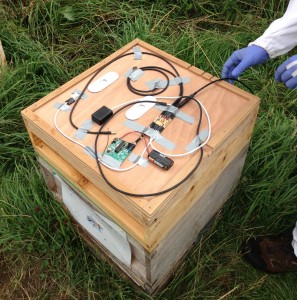 Hive Monitoring is not a new topic and several research projects exist that have embedded thermocouples in bee hives to measure temperature. The University of Montana is assigned a US Patent 6,910,941 granted on June 28, 2008 for a "Honey Bee Monitoring System for Monitoring Bee Colonies in a Hive". At Meadow Bees we wanted to try and use open source and readily available components in our hive monitor. This was to keep costs to a minimum and yet deliver a flexible and extendable system. If the prototype proves successful then we would plan to offer this for sale to other beekeepers.
Our hive monitors capture data such as hive temperature, brood temperature, hive humidity and apiary weather conditions. This will give us a fantastic insight into the status of our colonies.