When they're good, honey roasted peanuts are a magnificent symphony of sweet and savory flavors with nutty and floral notes, and this recipe doesn't disappoint.
Difficulty : Easy
Preparation : 20mins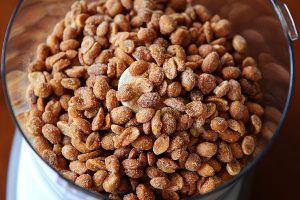 Ingredients
200g blanched peanuts
2-3 tablespoons honey
1 tablespoon unsalted butter
1/2 teaspoons cinnamon
20g caster sugar
1/2 teaspoon salt

Method
Preheat your oven to 160°C. Line a rimmed baking sheet with parchment paper. Combine sugar, salt and cinnamon  in a large metal bowl.
Heat the honey and butter in a pan over low heat until warm and dissolved. Remove from heat and add to the peanuts, stirring quickly to ensure that all of the peanuts get coated with honey.
Quickly transfer the honey coated peanuts to the baking sheets. The mixture should be warm but safe touch by now. Use the tips of your fingers to pat the clumps down and separate the peanuts. It is ok if some clusters remain, but try to separate them as much as possible.
Place the baking sheet in the oven for 15 minutes, stirring every five minutes. Each time you stir, try to redistribute the peanuts to a single layer. Remove from the oven and stir again.
Let the nuts cool for 5 mins before mixing adding to the bowl with the sugar, cinnamon and salt. Mix until the peanuts are well coated and practically all of the sugar and salt is on the peanuts.
Break them apart and serve immediately or transfer them to and airtight container and store at room temperature for up to two weeks.